When it comes to sex toys, it's important to think creatively. It's normal to be curious and impulsive. Start with something small and work your way up, just like in many aspects of your life.
Whether you are stressed, playing basketball, doing homework, or anything else that may take up your precious time, a sex toy can be your friend and a great helper. Intimate devices are very diverse and are presented in several categories. These can be vibrators, butt plugs, oils, blindfolds, or sex dolls, and when used correctly, they can be really effective and enjoyable. This is a beginner's guide to sex toys for women and men.
Types of Women's Sex Toys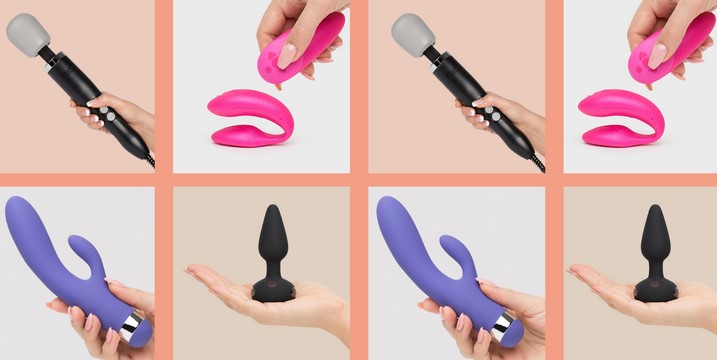 Sex toys are not intended to replace a living partner. They are designed to bring more pleasure and help you achieve more orgasms. Using sex toys is a completely normal and healthy activity, and there is nothing to be ashamed of. Masturbation and orgasm provide many benefits to both women and men. Sex toys help us achieve these goals, from reducing stress to easing menstrual cramps and even increasing happiness.
Is there a part of your body that you would like to stimulate? There's always a sex toy that's right for you! Choosing your first sex toy can be difficult as there are many different styles on the market, but it all depends on what part of the body you want to focus on. And it's not just limited to the vagina and clitoris.
Dildo
The dildo is the most popular female sex toy. It is also universal. Dildos are non-vibrating sex toys designed for internal use and massage. They can have an anatomical shape, like a real erect penis, or they can be abstract and have nothing to do with the male genital organ.
Dildos come in different shapes and sizes. You can purchase a large or mini dildo, a metal or glass dildo, a textured dildo, or even a curved dildo for G-spot stimulation. Some women like dildos for vaginal stimulation and the G-spot, but you can also purchase an anal dildo for anal stimulation and nerve endings in this zone.
Vibrator
Vibrator is a universal term that describes any sex toy that creates vibrations and stimulates the erogenous zones of the body.
Choosing the best run-of-the-mill vibrator essentially depends on what areas of the body you want to activate. There are external models that stimulate the clitoris as well as internal options designed for vaginal and G-spot stimulation. If you need simultaneous stimulation outside and inside, there is a rabbit vibrator. It has a vibrating vaginal shaft and external "ears" that vibrate to stimulate the clitoris, allowing you to enjoy the best aspects of both worlds.
Clitoral Massager
The clitoral stimulator is one of the best intimate accessories for women available on the market when it comes to achieving orgasm. Options for clitoral vibrations are varied. From large and powerful wand vibrators to compact vibrating bullets that can be used both independently and during sex due to their small size.
There are many options for clitoral accessories, and choosing the best one depends on your preferences and how you plan to use the toy.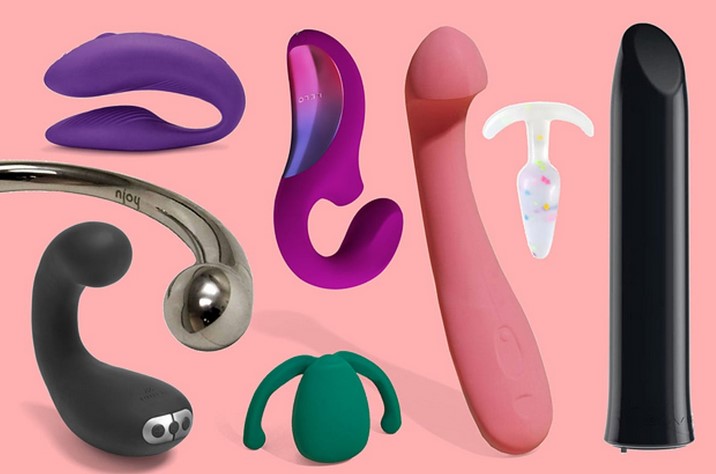 Butt plug
Butt plugs come in a variety of shapes and sizes and are designed to create the sensation of full stimulation of the anus. You can use the anal device during masturbation or as part of sexual play with a partner to give your sensations additional depth as the sphincter muscles grip the accessory.
Many people also use anal accessories to prepare their bodies for anal sex. They help relax and stretch the muscles, making the insertion of a penis or large sex toy more comfortable and easier.
Anal beads
Anal beads are a chain of connected spheres that start small and gradually increase in size. Beads can only be inserted as deep as you feel comfortable.
Anal beads stimulate the nerve endings in the anus, which brings the greatest pleasure. Try removing the beads slowly during or before orgasm, as this can make your orgasm much more intense.
Nipple Clamps
The nipple, as an erogenous zone, often does not receive enough attention during stimulation. Nipple clamps restrict blood circulation and may cause some pain if they are tightened during use. The main purpose of their use is the feeling that occurs when the clamps are removed.
Once the clamps are removed, blood returns to the nipple, causing a rush of new sensations and the release of endorphins. The nipple becomes more sensitive and reacts to touching, caressing, and pinching.
Types of Male Sex Toys
We talk a lot about a woman's vagina and clitoris. What about male erogenous zones? There are also plenty of sex toys for men to use alone or in couples' lovemaking.
Sex Toys for the Perineum
The perineum, the thick skin between the testicles and anus, can be sensitive to touch. Additionally, it is also a way to stimulate the prostate without penetration. You can stimulate the perineum with pressure or stroking, starting with gentle touches and exploring what feels more pleasurable.
Vibrators are very popular for perineal stimulation as they are versatile and often have good power. You can use a wand vibrator and point it towards your perineum. If it feels too strong at first, try applying it through a layer of clothing or placing a sock over the head of the vibrator.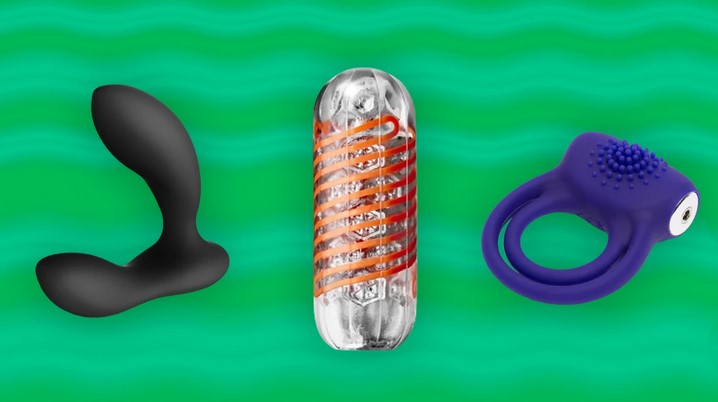 Sex Toys for Anus and Prostate
To stimulate the anus from the outside, you can simply touch it in the same way as any other part of the body, paying attention to the pleasant sensations.
However, if you practice anal penetration, there are two essential conditions. First, it is important to use lubricant. Unlike the vagina, the anus is not naturally lubricated. Water-based lubricant is suitable for latex condoms and sex toys. Keep plenty of lubricant on hand and apply it as needed.
Secondly, any toy you insert into the anus should have a flared base that remains outside the body. This is important for fixing the device and the safety of your health.
To stimulate the prostate, you can insert a lubricated finger, penis, plug, or dildo into the anus. The P-spot, the most sensitive part of the prostate, is located a short distance from the anus towards the abdomen. It can be found by feeling a small bump on the other side of the rectum, about the size of a walnut.
If you are interested in butt plugs, then try a device with vibration and heating. It is equipped with two independently controlled motors: one to stimulate the prostate at the end of the plug and another to simultaneously stimulate the perineum at the longer outer ridge. The vibration sensation is not like a normal buzzing sound. It's more of a deep buzz that creates a special sensation. The vibrator is designed to fit snugly against the body when inserted. It can also be heated to promote relaxation of the body and stimulate blood circulation. This enhances the erection of the penis.
When the depth of anal penetration becomes too great, it is useful to use a buffer. This set of squeezable rings can be layered to limit the depth of penetration without diminishing the pleasure for either partner.
Sex Toys for Penis and Testles
A man's penis is not just a rod for insertion into the vagina but also a sensitive organ that can be stimulated with sex toys.
Try a vibration stimulator on the glans or the sensitive skin on the underside of the penis, where the shaft connects to the glans. Some vibrators have sleeve attachments that can be used for gentle movements. You can use the device for caressing in the area of the scrotum or testicles.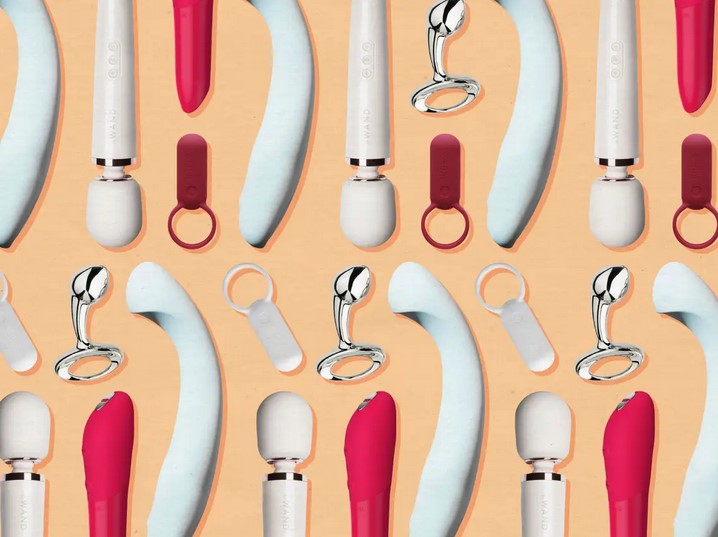 Cock rings are special toys that fit around the penis (and sometimes the scrotum) and can vibrate to enhance pleasure and maintain an erection. If you use them during sex, you can position the vibrating part so that it stimulates the woman's clitoris or perineum.
For men's sex toys, it is recommended to use a water-based lubricant to reduce friction and increase pleasure, especially when you are using sex dolls.
What Are the Best Sex Toys for Beginners?
Finding the right sex toys for beginners is a fairly simple task if you know what to look for. Start by choosing a toy for the area that brings you the most pleasure, and start with something small.
It is important that the toy is not too large, as if it is too large, it may be difficult to use correctly or even to use at all. Regardless of your choice, always make sure that you are purchasing high-quality sex toys. This doesn't mean you need to choose the most expensive toy.
Read customer reviews and make sure that the toy you choose is safe for your body and will last a long time.