Much like any object regularly introduced into your body, it's imperative to ensure its safety and cleanliness. This applies to the maintenance of your sex toys. Cleaning your sex toys instructions are typically found on the packaging.
So, although the excitement of acquiring your cherished possession might tempt you to hastily discard the cardboard or plastic exterior, it's advisable to retain it for additional guidance on preserving the longevity of your investment.
The majority of cleaning directions are quite straightforward, typically involving the use of soap and water. However, not all sex toys can be cleaned in the same manner, as their composition and whether they are motorized play a pivotal role in the cleaning process.
Before delving into this topic, let's explore why maintaining your collection of sex toys is more crucial than you might realize. The primary concerns revolve around sexually transmitted infections (STIs) and general hygiene. Neglecting proper cleaning can result in the transmission of bacteria or yeast infections, and there have been instances where HPV was transmitted almost immediately. Furthermore, shared toys can facilitate the transfer of infections like gonorrhea, chlamydia, and other bacterial ailments. Regular testing is crucial, as symptoms may not always be visible.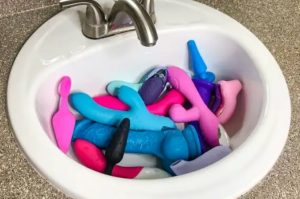 Cleaning your sex toy also contributes to overall hygiene. Just as it's advisable to urinate after sexual activity, cleaning your toy is a wise practice. Make it a routine and avoid falling asleep immediately after using it. Show the same respect and care for your body as you do for your toy. Additionally, it's crucial to prevent cross-contamination; avoid using sex-related items meant for anal play near the vagina. Maintaining separation is essential for a safe and satisfying experience.
How to Clean Your Sex Toy Precisely
You may always consult the provided instructions. However, if you're uncertain, here are a few quick tips to consider.
For motorized toys made of silicone, glass, stainless steel, or wood, simply clean them with soap and a damp cloth.
If your toy isn't motorized and is made of silicone, Pyrex, stainless steel, or stone, you can either boil it for 10 minutes or place it in the dishwasher without soap.
When dealing with hard plastic, elastomer, or jelly rubber materials, it's important to use a condom due to their tendency to harbor bacteria. Opt for non-lubricated condoms to avoid a sticky mess, as silicone lube and silicone toys don't mix well.
Aftercare involves drying your toy and storing it in a silk bag or a dedicated container to protect it from external bacteria. If storing multiple toys together, remember to separate them by material to prevent latex, silicone, or rubber from distorting the toys.
Additionally, cleaners  for sex toy materials are available, and store representatives often recommend using them as an extra precaution. Make sure to remove any batteries, apply the cleaner directly to the toy, and rinse it with warm water.
What Is UVee
Another alternative is UVee, which was established by a mother-daughter duo, Carrie Martz and Brooke Martz O'Connor. UVee offers a UV-C light system designed to eliminate 99.9 percent of harmful germs that could lead to infections. It's a simple process: just wipe down your toy, place it inside the chamber, close the lid, and UVee will sanitize your toy. According to their official website, scientific evidence supports that UVee is two to five times more effective than using foams and gels.
How Frequently Should You Clean Sex Toys?
After each use without exception. There's no room for procrastination; making it a weekly task is not an option. There isn't a specific "how-to" guide for this. It's an essential practice. Make it a routine. Get it done.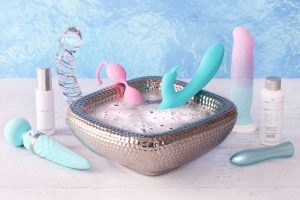 Taking care of your body and ensuring the longevity of your toys only requires a few moments to guarantee your toy remains in good condition for your next use. It might not be the most enticing activity to spring out of bed and clean, but in the long run, it's crucial. It doesn't have to be immediately after an orgasm, but before your next use, cleaning is a non-negotiable task. It's a responsibility that must be fulfilled, and you're the only one who can do it.
Just like the way you need to correctly handle tasks such as doing laundry and loading the dishwasher, maintaining the hygiene of your sex toys is an essential skill to acquire. This is a skill that most people could benefit from practicing more frequently. After all, these devices come into close contact with intimate areas, which are certainly deserving of thorough cleanliness. Mistakes in the cleaning process can lead to uncomfortable situations, so it's crucial to understand the best methods for this task. It all begins with a genuine commitment to cleaning your sex toys, whether they are new or used.
It's crucial to clean your sex toy after each use to prevent the buildup of bacteria. Sex toys made from 100 percent medical grade silicone, stainless steel, or glass can be effectively cleaned with hot water and a mild, unscented soap. It's advisable to allow them to air dry on a clean surface and then store them in a waterproof bag or on a clean nightstand counter. Always remember to wash your toy both before and after every use.
Main Errors to Steer Clear of When Cleaning Sex Toys
Avoid to Clean Sex Toy Upon Its Initial Arrival
You might be tempted to think, "Well, it's brand new, so it must be clean and safe, right?" Just like you would wash new underwear, you should thoroughly clean a sex toy with mild soap and hot water when you take it out of the packaging, and then let it air dry on a clean surface. Keep in mind that sex toys aren't sterile, so they may harbor dust or bacteria even when brand new.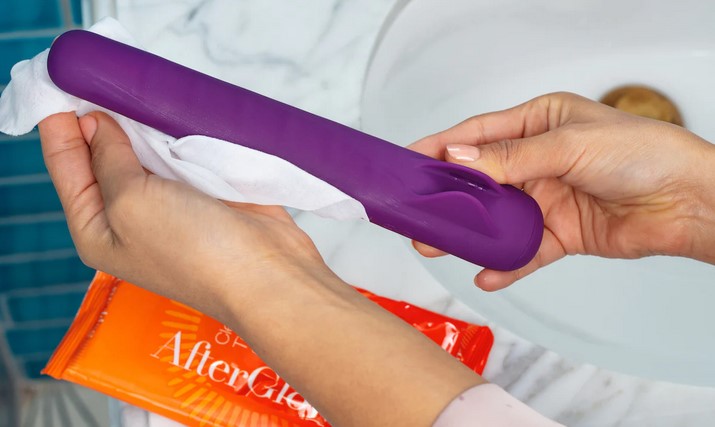 Avoid to Confirm if Sex Toy Is Waterproof
Many sex toys are indeed designed to be waterproof. However, before considering your toy as a bath-time companion, always make sure it's safe for submersion. If it isn't, there might be openings through which water could seep, potentially causing electrical and battery damage. You must always review the product information to avoid ruining your toy.
Avoid Drying Sex Toys Before Storing
It can potentially lead to damage sex oriented items, so it's essential to ensure they are completely wiped down before placing them in their designated storage spot. You must avoid towels that might leave debris, which could result in irritating particles on the toy.
Using scented soaps, household cleaning products, or bleach is not recommended for cleaning these toys. Remember, these toys may come into contact with either your vagina or anus, both of which are highly absorbent areas of your body. Scented products can cause irritation and even lead to issues like yeast infections, so it's best to steer clear of using any ordinary household scented soap on them. Using household cleaning products not intended for sex toys can harm them, and she suggests sticking with warm water, antibacterial soap, and/or specialized sex toy cleaners.
When dealing with porous materials like jelly, latex, rubber, or realistic-skin materials, it's important not to clean them in the same way as non-porous toys. Porous toys can trap bacteria, making them less ideal for careless use. You have to use a condom on porous toys every time to keep them clean and maintain your safety.
Avoid Right Utilizing of Sex Toys
Throwing your toys into a musty old drawer is not a good idea, as drawers can harbor bacteria. Instead, it's encouraged to proudly display your favorite sex toys on your nightstand, as it not only signifies your prioritization of pleasure but also serves as a reminder to engage in sexual activities, according to Story. If you must keep them in a messy drawer, be sure to place your toy in a waterproof bag first to maintain cleanliness.